RETREAT - YIN PRAY LOVE IN BALI 22nd Sept to 27th September 2019
Embrace and deeply immerse on this sublime Retreat at The Shala Bali as you relish morning meditation, daily lush activities and afternoon YIN with massage in class. All guests will be nourished with flavour filled innovative, international and local vegetarian cuisine and have access to specialised spa and beauty treatments at the private spa in the jungle! We will also be treated to a local talented Yogi musician during afternoon classes and Kirtan. Choose your accomodation package below and BOOK soon to secure your spot.
Limited spaces are available for our exclusive retreat guests.
RETREAT SCHEDULE
6:00am : Tea will be served before meditation & mantras
630am - 8:30am : Awaken, revitalise the mind, body & spirit with Yoga, breathing techniques
9:00 - 10:00am: break the fast with a delicious breakfast menu changing each day
10:00 - 1pm : Option to attend YIN Yoga Teacher Training workshops at extra cost - Topics include Meridians, Philosophy, Mindfulness, Understanding anatomy and therapy of Yin postures. See all topics here. Retreat guests can choose to participate at extra cost or enjoy Resort at your leisure, laze by the pool, read a book, treat yourself to some pampering at the Spa or venture out and discover the thriving, artistic town center. Extra activities can be arranged on request
1.00-2.00pm Buffet lunch - choose a dish from our a la carte menu or explore one of the many amazing restaurants in Ubud
2.00-5.00pm Receive, relax, rejuvenate and release the mind and body with a more YIN, meditation and chanting
5.00pm Kirtan music, optional dance & connection circle
6:30pm Dinner with abundant food, drinks & dessert
8.00pm Sweet surrender to read, chat or deep blissful sleep
FOOD PHILOSOPHY ON OUR RETREAT
Food is one of the main ingredients in any retreat and we also believe that eating well does not mean deprivation. Shala Bali adds joy and taste into healthy food. Every dish on the menu has been created with flare and care to NOURISH & SATISFY.
Give your body a much needed break from processed, hard to digest foods and feel amazing after a week of FLAVOUR PACKED, plant based, nutrient rich, whole foods.
From our Retreat venue:
>> We take care of you personally. We accommodate all dietary requirements Gluten Free or Vegan, lunches and dinners are choices from our A La Carte menu
>> We never serve the same thing twice. Our creative menus change daily so each meal is a new culinary discovery!
>> You will not go hungry or thirsty. Hot and cold drinks, purified water, fresh fruit and smoothies are served throughout the day.
>> Most of our food is Gluten Free, sugar free and dairy free but certainly not taste free.
>> Our produce is locally sourced & organic as much as possible because we like our food fresh and full of nutrients without the toxic pesticides!
RETREAT ACCOMODATION
ALL ACCOMODATION PACKAGES INCLUDE:
✔️5 x Morning Yoga 2hrs - Pranayama, Asana, Meditation
✔️5 x Afternoon Yoga 2hrs - Yin Yoga + Sound healing
✔️ 5 x Daily Breakfast
✔️ 5 x Daily Buffet Lunch
✔️ 5 x Dinner
✔️Daily Free-flow tea and drinks
IN ROOM COMFORTS
Wifi

Ensuite bathrooms

Natural body wash

100% cotton mosquito nets

Quality high thread count linen

Purified drinking water

Tea & coffee making

Ceiling fans

Safe for valuables

Mini fridge

Wardrobe and storage space

King singles | Extra king beds

Balcony
We will offer two levels of Balinese style luxury to suit your taste and budget. Choose either the Wooden Bungalows or the Luxurious Master Suites with living area…your Bali home away from home.
DELUXE SUITES COST FOR 5 NIGHTS
QUEEN own room
Full price $1765
Early Bird $1665 (pay in full 3 mths before)
TWIN share
Full price $1275
Early Bird $1175 (pay in full 3 mths before)
BOOK or Enquire today : yoga@zensoullife.yoga
PAY YOUR $500 DEPOSIT to secure your spot.
BUNGALOW ROOMS COST FOR 5 NIGHTS
QUEEN own room
Full price $1355
Early Bird $1255 (pay in full 3 mths before)
TWIN SHARE
Full price $1062
Early Bird $962 (pay in full 3 mths before)
BOOK or Enquire today : yoga@zensoullife.yoga
PAY YOUR $500 DEPOSIT to secure your spot.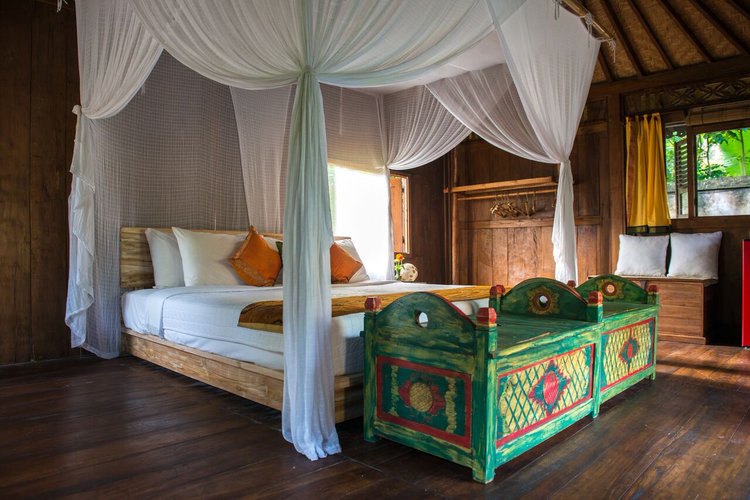 ADDITIONAL COSTS
Airfare to Denpasar Bali - We recommend booking ASAP to secure cheapest deals

Airport- Resort transfers [$65 per car - option to share with other guests on same flight)
>> Imagine - Organic spelt, sourdough & gluten free breads BAKED IN HOUSE with home made condiments - think Pineapple Vanilla Bean Jam! & creamy nut butters.
>> Fermented products for a healthy tummy?? YES! We make our own Kombucha in different fruity flavours and our own natural yogurt or vegan coconut yogurt.
>> Your retreat your menu! - Choose from our eclectic menu of sweet and savoury dishes from around the world and enjoy the foods you like the most during your week with us.
>> delicious >> healing >> kind to the earth